[short url]
Music
Luke Jackson
Tuesday, August 18, 2009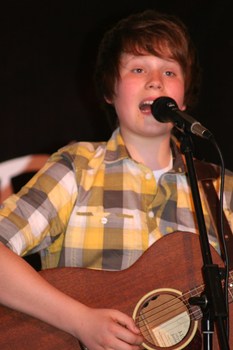 UPDATE 18th August 09
Sat 15th August saw Luke giving a solo performance at Broadstairs bandstand with a special guest - Martin Cox of EK1 -on sax. It was a lovely sunny day at the end of Folk Week, so made a perfect way to spend the afternoon.
See my photos
here
Make sure you visit Luke's website
http://www.lukepauljackson.co.uk
, or
MySpace page
for news, videos and forthcoming gig dates.
Too Young to Tour ?
A trip to Maidstone on Monday 6th April to see our friends
Cathryn Craig and Brian Willoughby
had an extra bonus in store. Supporting the duo was a 14 year old singer / songwriter / guitarist from Chartham in Kent called
Luke Jackson.
I had not encountered Luke until a couple of days before the gig when I clicked on a link to find out about the support artist for the evening and immediately liked what I heard.
I wasn't quite prepared for the very confident, competent young man that I met at Maidstone. He is the perfect example of the saying "an old head on young shoulders". With a cheeky smile he owned the stage and greatly impressed the assembled audience of predominantly dedicated C & B fans. Once he starts to sing, he becomes engrossed in the music and the emotions of the lyrics shine through in his performance.
He plays guitar, (having started at the age of 10) to accompany songs of his own composition, and others that lyricists have sent to him for set to music. His own lyrics cover unexpectedly mature topics for a young lad: love, war and loss in 'Letter from Rose' as well as a description of his ambitions and frustration at being 'Still too young to tour' with roadies forbidden, and no expensive Gibson guitar, and the charming 'Bakers Wood' which talks about himself and his friends and how their lives are changing as they grow up. Luke says "The idea of the song came from talking with 2 of my mates recently about a time last summer when we were climbing trees in the woods near us, Bakers Woods, nothing special but a brilliant day. I then added to this, thinking about the future and what we would remember, and even whether we would even remember one another." See a video of Bakers Wood from Mondays Zebra Bar performance below.

His voice is strong with a wide range from the ocassional almost choir boy top notes to deep full bass, he can hold a note and sustain it as well as any more mature vocalist. He is a big fan of Martyn Joseph and is excited to have a guest spot with him in Whitstable on Sat 25th April - unfortunately we can't be there !

Luke is a young man who knows what he wants to do in life, and is determined to work hard to get there. He has full support from his father who drives him all round the country to play whenever school and homework allow, and he already has a gig list that many artists would be envious of.

The main act of the evening,
Brian Willoughby
was very impressed with Luke and happy to let him loose on his own Gibson guitar after the show - something which clearly delighted both of them.
Luke has an 8 track cd out, which is well worth the £3, a
MySpace page
where you can hear more of his music and watch more of his performances from
YouTube
, and a website online shortly. I have no doubt that the name
Luke Jackson
is one to watch out for in the very near future.
See more of my pictures of Luke
here