[short url]
Music
Blue Angel Orchestra Chatham 27th Nov 08
Thursday, November 27, 2008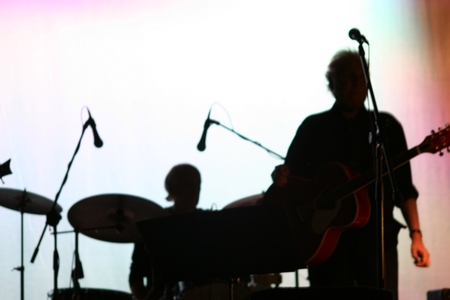 It was a wet and chilly evening when Mike, Jason and I set off for the
Brook Theatre
in Chatham to see the
Blue Angel Orchestra
once again. The hall was busier than expected, with the raked seating being employed in addition to just the usual 'cabaret style' tables and chairs, and the faithfull had travelled from all parts of the country to see the show. Les and Sue from Lytham St Annes, Nigel from Dorset, Ali from Middlesbrough and Lindsay and Judy from Southend to name but a few. From our group, this made us the most local at a mere one hour drive !
An initial power failure delayed the start by 30 minutes, but then
Dave Cousins
and
Ian Cutler
provided their own 'support act' for the evening, with the duo treating us to different arrangements of a selection of well loved Cousins classic tracks.
After another short break, the
Blue Angels
took to the stage, straight into a rocking version of
'Never Take Sweets'
however, the gremlins were in charge tonight..... PA cables and mikes repeatedly failed due to a loss of mains power and even when working, there were popping noises a-plenty. Such a shame, as the band were on great form, but several set piece numbers such as
'Orange Blossom Special'
were ruined. Luckily for the theatre, most of the audience were already staunch BAO fans and nobody walked out, but everyone was left feeling disappointed on behalf of the band who were so badly frustrated despite their valiant performance.
One special moment during the evening for us, happened when Dave was introducing the band members and announced that he had first met Ian about two years ago, when they were introduced by his "dear friend Sue Holton" I am just delighted that I was able to bring about the meeting of two such great musicians, and highly honoured to be considered a dear friend.
You can see my photos from the night
here



Review and setlist by Lindsay Sorrell



Terrific to see so many long-distance Witchwooders there, but there were unfortunately some really bad PA problems right from start to finish which did detract quite badly. Even when things were going well there was always a niggly expectation that Dave Cousins' mike would fall silent again or whatever, lots of crackles and so on. Oh well, that's what makes live music live and unpredictable. Everyone still seemed to enjoy the evening a great deal despite the sound problems.

In the first set (Cousins and Cutler) I was absolutely blown away by "Ways and Means" – always a favourite of mine, I love the lyrics and the whole feel of that song, and it was highly evocative of listening to "Two Weeks Last Summer" in my teens. Have to say I'm not that keen on the "jaunty" rendition of "We'll Meet Again Sometime" though – maybe it's because of the subject matter, I don't know, but I'm just not keen.

The Blue Angel Orchestra set still rocked despite the sound difficulties, and everyone in the band gave it their all.



First Set – Dave Cousins and Ian Cutler

On A Night Like This
Grace Darling
The Shepherd's Song
Song of a Sad Little Girl
Ways and Means
The Call to Action
We'll Meet Again Sometime

Second Set - The Blue Angel Orchestra

Never Take Sweets From A Stranger
Skip to my Lou
House of the Rising Sun (Miller Anderson lead vocals)
Mellow Moon
Mother Luck
Lonely Days, Lonely Nights
Orange Blossom Special (Ian Cutler)
Hellfire Blues